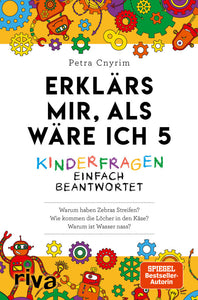 Kinderbooks
Erklärs mir, als wäre ich 5
Regular price
$11.50
$0.00
Unit price
per
We have 2 in stock.
Understandable general knowledge. SPIEGEL bestseller. A gift for parents, teachers and the curious.
Children ask a thousand questions. Questions that any adult can easily answer. Or maybe not? Even if you know the answer, it is often not that easy to give the little ones explanations that they can understand. This book tries to do just that and not only provides adults with explanations for exciting questions, but also shows that complicated things can sometimes be completely can express easily. Why is there lightning during thunderstorms? Why is everything black and white at night? How does a touch screen work? How does electricity get into the socket?
+++++
Verständliches Allgemeinwissen . SPIEGEL Bestseller. Ein Geschenk für Eltern, Lehrer und Neugierige.

Kinder stellen tausend Fragen. Fragen, die jeder Erwachsene ganz einfach beantworten kann. Oder vielleicht doch nicht? Selbst wenn man die Antwort kennt, ist es oft gar nicht so leicht, den Kleinen Erklärungen zu liefern, die sie auch verstehen.Dieses Buch versucht genau das und liefert Erwachsenen nicht nur Erklärungen für spannende Fragestellungen, sondern zeigt, dass man komplizierte Dinge manchmal ganz einfach ausdrücken kann. Wieso blitzt es bei Gewittern? Warum ist nachts alles schwarz-weiß? Wie funktioniert ein Touchscreen? Wie kommt der Strom in die Steckdose?
Weight: 261 g
---
Share this Product
---